We offer horseback riding, pack trips, spot packs, and gear drops into the beautiful Bridger Wilderness of the Wind River Range near Pinedale, Wyoming! Great scenery and fishing are abundant, as well as lots of hiking opportunities. Enjoy the beautiful Green River valley below Gannett Peak, the highest peak in Wyoming, and part of the largest glacier system in the lower 48 states.
Riding on horseback to the Winds and we will set up the camp, cook 3 square meals a day over the camp fire. During the day you can either ride to some great fishing and photo opportunities, go on unguided hikes or just relax and take in the beauty of the Wind River mountains and watch the horses graze in the meadows. This is a trip you will not soon forget and the whole family will enjoy.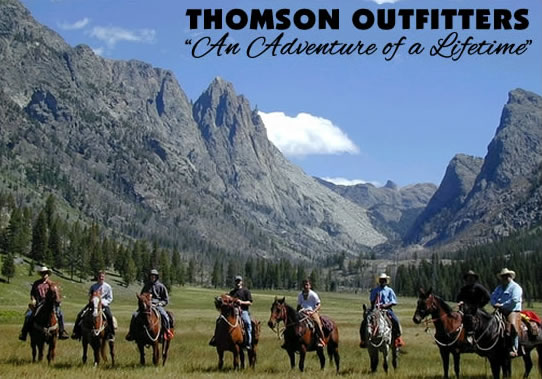 Pack Trips - What's Included
Pack trips include 3 meals a day, comfortable lodging and dependable horses. Please bring your personal belongings and riding clothes. Although the summer is mostly sunny, a rain coat on longer trips may be advisable. We'll help you take in everything you need for a great horse back riding vacation.