Great scenery and fishing are abundant, as well as lots of hiking opportunities. Enjoy the beautiful Green River valley below Gannett Peak, the highest peak in Wyoming, and part of the largest glacier system in the lower 48 states.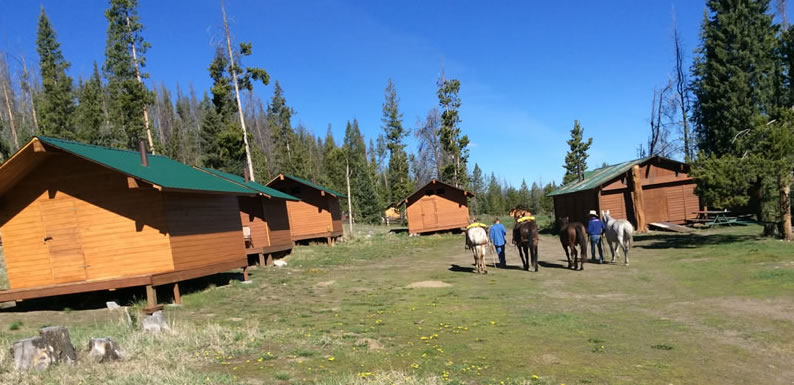 Explore the Green River Lakes area from your rustic cabin located just 3 miles below the Green River Lakes near Pinedale, Wyoming.
Our cabins are the closest lodging option for enjoying the Green River Lakes area!
What to Expect at the Green River Lake Rustic Cabin Camp
This camp offers 3 brand new cabins, a cook shack, dining area and shower tent.
This camp is located 3 miles below Green River Lake.
It is a drive in camp so you can bring any equipment you would like (ATV's, horse trailers, boats, etc)
If you are looking to get away and you really don't want to "rough" it this is the camp for you.
Bring your sleeping bag! Our cabins are cozy and comfortable but we do not provide linens.
What Activitites Are Available?
We offer a variety of horseback rides from this location. The trails go through meadows, forest, and across rushing mountain streams. Our horseback rides are an experience you will not forget!
Fish the Green River which is only 300 yards from the camp!
Explore the Green River Lakes! We are the closest lodging option to this BEAUTIFUL area!
Enjoy being in the mountains, relax around camp and enjoy the view.
Do You Provide Food?
Yes! Your cabin rental includes a steak dinner & full hot breakfast in the morning.
When Are Cabins Available For Rent?
They are avalaible seasonally from June - September.
How Much Does it Cost?
Pricing is $345 per person per day. Meals and horseback rides included!
Steak dinner & hot breakfast is included
Horseback rides include a sack lunch
Group discounts available. Group size 10 or smaller.
How To Book A Cabin
Call (307) 367-6507 or fill out our contact form.
Learn More About the Green River Lakes Area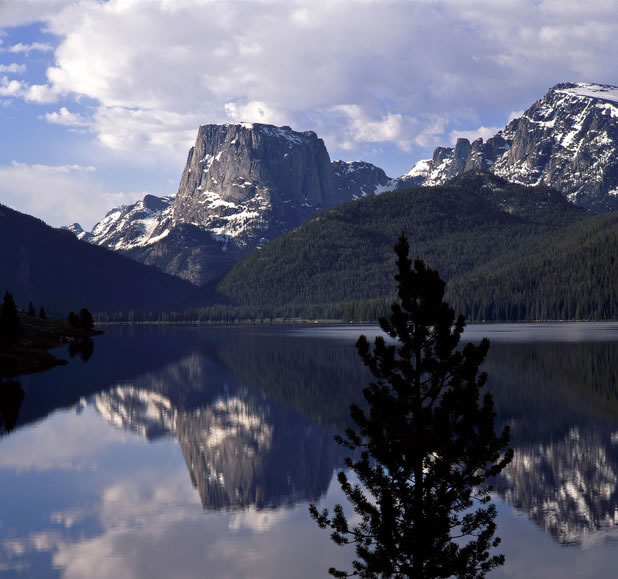 Green River Lakes are part of the Bridger-Teton National Forest Recreation Area. They are located 52 miles north of Pinedale at an elevation of around 8,000 feet. Activities include hiking, horseback rides, fishing and boating.
The Green River Lakes are nestled behind a natural terminal-moraine dam scoured out by glacial action and surrounded by the stark, cold, steep topography of the Wind River Range.
The Green River Lakes are considered the headwaters of the Green River; the chief tributary to the Colorado River.
The Green River Lakes are also the starting point for many backpacking trails including the northern entrance to the frequently used Highline Trail, which extends along most of the Wind River Range and follows the spine of the Continental Divide south to Big Sandy Opening.
Visitors have a view of stunning Squaretop Mountain rising 11,695 feet into the air. The mountain looms over pristine blue-green lakes. Area wildlife includes large game animals such as moose, elk, deer, and pronghorn as well as hawks, bald eagles, fox, wolverines, marmot and more. This is also Grizzly and Black Bear county so please just appropriate caution.
It can snow any day of the year in the Wind River Range! Visitors should come prepared for cold weather.
Additional Information About the Green River Lakes area:
https://www.fs.fed.us/wildflowers/regions/intermountain/GreenRiverLakes/
http://www.visitpinedale.org/explore/lakes/green-river-lakes